Goodwood Revival Ideas - The Fifties!
Posted on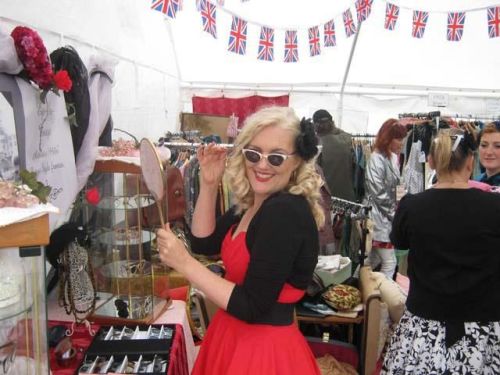 Goodwood Revival is a vintage vixen's heaven with a daily opportunity to be invited to take part in the Best Dressed competition during the course of the event! This fabulous three-day event has been running since 1998. It began as a vintage racing festival where cars and motorcycles from the era of the circuits beginnings in 1948 to 1966 would race the track.
The real enthusiasts began wearing clothes of the period, and over time it has become as well known for dressing in both original and reproduction vintage fashion as for the retro racing!
First-timers will often feel conscious about dressing up vintage style, and arrive in their modern clothes for the event. Without exception everyone who had done this in the past that has spoken to us at Retro Daisy have said they regretted it and that the following year they took this wonderful opportunity to join in the fun and step back in time for the weekend!
You don't have to be an authority on vintage dressing – this post can help guide you to the right style and look for you!
Of course, you can buy original vintage or reproduction but you can just as easily find key items in your local charity shop or even your own wardrobe that you can 'vintage up'.
Makeup and hair can go a long way to getting you into the swing of things and feeling like you really have just stepped into the forties, fifties or sixties. There are a lot of advice and instructional videos on youtube if you want to follow their examples and DIY.
However, although it's expensive (be prepared to spend in the region of £70) it's an amazing treat to book into the Goodwood Salons on site and have your hair and makeup done by the professionals!
You can book in advance or take your chance on the day – in all the years we've been going the salons have never been too busy to fit in a quick victory roll or red lipstick!
Practical Tips
Take comfortable low heel shoes as walking to and from your car can get a bit muddy in wet weather and it's also a fair distance from the car park to the venue.
Take a picnic! If you're on a budget eating at Revival is expensive
Take some spending money for the clothing stalls – there is a great mix of real vintage and reproduction and they often have special offers on the last day.
Beware the traffic getting into and out of the site – allow some time for queuing to get in and out!
Take your own Champagne – the price of a bottle of Verve at Revival is astronomical and let's be honest what's a vintage picnic without Champers?!
This guide will give you the low-down on the eras and what was considered the most important dress codes! We're starting on with what seems to be everyone's favourite – the glamorous fifties! Please check back for our next instalment as we cover the 1940s to the 1960s/70s!
The 1950s
After the uncertainty, anxiety and chaos of the war years during the 1940's people approached the 1950s with a burst of enthusiasm and positivity – the outlook was bright and hopeful. The 1950s were a gift that many people had feared they would not live to see.
There was a frivolous feel to fifties fashion – the war had made people cautious and clothing had become functional and pared down but in the 1950s fashion for women became feminine and fun again.
The key look consisted of an emphasis on accessories and the female shape.
Gloves were an everyday item, materials for daywear were stronger fabrics and leathers that would just hit or cover the wrists – evening gloves were often longer or ruched and in softer materials such as satin. Sparkling diamante or pearl bracelets would be worn over the top of the gloves for a dramatic and glamorous effect.
Jewellery, especially costume pieces were an important accessory – drop earrings for evening wear and bold round earrings for daywear were popular. Finishes such as pearl, diamante, coloured glass and crystal were also fashionable.
A handbag was a necessity to complete any outfit, handbags were structured with finishes such as tapestry, leather, crocodile and velvet and beaded to compliment evening outfits. Kiss locks were popular as were Lucite box bags. Few had shoulder straps they were mostly held by handles.
No outfit was complete without a hat – pillbox hats were still very much in vogue.
If you ask someone to identify an item of underwear that shouts 1950s it would most likely be the petticoat! Layers of petticoats were a 'must' under full or circle skirts, they pushed the skirt out and made the waist look smaller and more dainty, and gave women the 1950s silhouette they desired.
Many of our customers who came into our shop at Retro Daisy and who had experienced the era first hand would tell us about the starch and sugar solutions they used to stiffen their petticoats to keep the shape and give extra oomph!
Softer petticoats were also in favour and would sometimes be layered up, women would wear more than one petticoat at a time and often with different contrasting colours.
A cinch belt would be an essential accessory to pull in the waist drawing attention to the hourglass shape that was so desired. Both leather and elasticated belts were used to achieve the coveted effect.
Although full skirts were immensely fashionable, in contrast, pencil skirts and the more tailored fitted look was also favoured. Pencil skirts and pedal pushers were figure-hugging garments that showed off the female body to sometimes devastating effect – with the aid of girdles and waspie foundation garments women dramatically accentuated the female form. The skirts and pencil pushers were so tight they often featured V-shaped vents at the back to allow more comfortable ease of movement.
As the decade progressed the structured look gave way to a more fluid expression in clothing shift dresses or 'H' line dresses became a popular choice for women, also gaining popularity was the Princess line both of which loosened the area around the waist but the hourglass was still a look that many women held on to.
Here at Retro Daisy, we specialise in bringing the 1950's look to our customers – we have everything you need to achieve this fabulous and glamorous style. If you require any advice on how to achieve the look we offer a bespoke personal service to guide you and point you in the right direction to suit your body shape and needs – please email us at [email protected] and we will do our best to ensure that you achieve the authentic 1950s style for the occasion
Click on 'Shop the 1950s' for ideas