Goodwood Revival Ideas - The Forties!
Posted on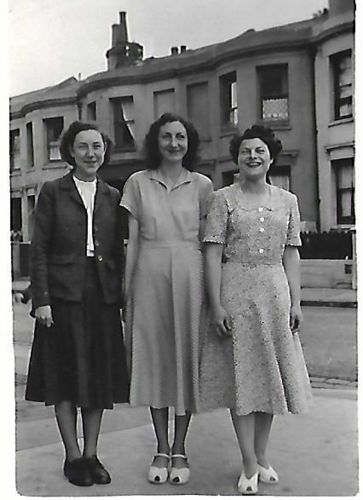 Welcome to the 1940s
The nineteen forties was a creative and resourceful decade in fashion, primarily dominated by World War II. Food and clothing was in short supply and the slogan of the era became 'Make do and Mend' as women came out of the kitchen and into the workplace in an attempt to fill the gaps left behind by the men who were fighting for King and Country.
Natural materials such as silk were used to make parachutes for the war effort and were unavailable for use in the manufacturing of clothing. Manmade fibres such as Tereylene, Rayon and synthetic jersey were used instead, however even these were rationed and from 1941 any extra superfluous details on clothes were banned.
This lead to designers giving much more thought to the tailoring of garments. The fashion industry concentrated on a flattering fit and outfits were made to last, unlike the throwaway fashion of today clothing was constantly and creatively recycled – there was no clothing landfill mentality in the 1940s!
It is interesting to note that English Couture was still in production, although not available for the British market, it was mostly sold overseas for a much needed cash injection to fund military expenses. Whilst we were watching the pennies America was mostly unaffected by rationing and their designers were unleashing their imagination with the first 'ready to wear' collections. British women were going to the cinema in droves being influenced by the beauty and glamour of the Hollywood Silver Screen. They would return home inspired by what they had seen, utilizing whatever they had to hand, including men's clothing to transform their own wardrobes.
Clothing coupons were issued and women would change their appearance by hand making items with materials they already had. They would make accessories such as hats, gloves and scarves, and their own jewellery, brooches were especially popular. Skills were honed and sewing, knitting, embroidery and crocheting were the order of the day.
They would even make their own bags to match their outfit.
The government issued the CC41 label (controlled commodity 1941) and for the1940s aficionado of today the CC41 label is a coveted addition to their vintage wardrobes, a highly collectable item. CC41 was devised to produce hardwearing, no nonsense efficient and serviceable clothing – known as utility wear. Everything was simplified – with no unnecessary details such as frills, too many buttons, or needless pockets. Hemlines also rose to just below the knee for daywear in an effort to save on fabric.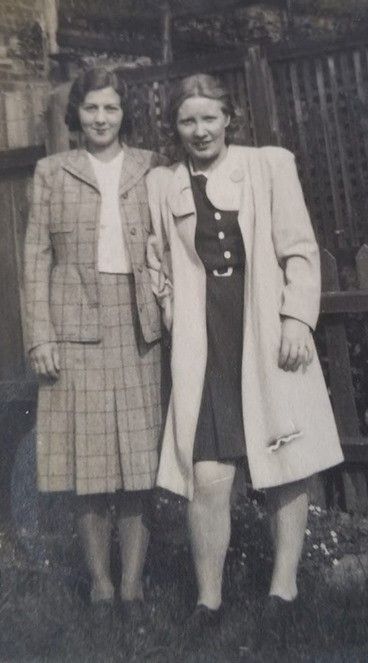 The styles were practical and patriotic, the military look was a fashion favourite during this time although masculine it was cut and feminised to place emphasis on the female figure with sharp tailoring which presented nipped in waists and padded shoulders.
More women began wearing trousers for working in the factories and on the land, and jumpsuits (also known as siren or shelter suits) were designed for pulling over the top of your pyjamas during an air raid. They were practical with large pockets so that you could collect your most important belongings and carry all you needed down to the shelter. Women's trousers featured high waists with button fastenings at the side.
Denim jeans and dungarees became all the rage in the 1940s as female Hollywood stars began sporting the look.
A Woman's Place!
While women were wearing military styling and working in factories etc, doing the jobs of their men folk, it was still considered of the utmost priority to look good for the men in their life at all times. They were encouraged to make themselves as attractive as possible, and to be a symbol of what the men were fighting for.
A key look during the war years were tea dresses in plain or patterned fabrics. The tea dress had wide padded shoulders and would fit in to the waist with a gently flared skirt that fell just below the knee.
Dresses were often in bright and cheerful colours which balanced the severity of the design. Suits worn in the military style were accompanied by a tilt topper hat. The tilt topper was placed towards the front of the head and tilted down at a jaunty angle. Women also used felt fabric or knitted hats they had made themselves.
Headscarves were also worn as turbans and were exceedingly popular for daywear and work wear. Women became adept at elaborately styling their hair. Rolls and pin curls were an everyday 'do' with hair being set at bed time or already styled hair carefully covered with a net or scarf to keep it in place for the next day. Two of the most famous of the forties hair dos were Veronica Lake's 'peekaboo' style and the 'Victory Roll' both of which are seen today as the essential look for any 'would be' pinup!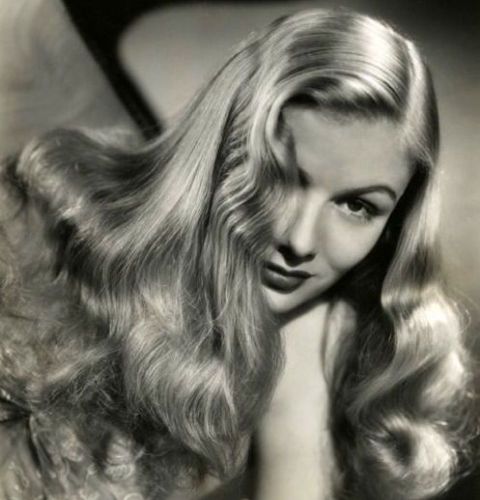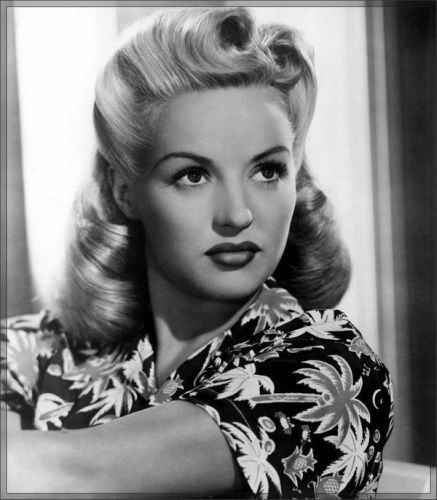 Hair flowers were a popular accessory to brighten up a hairstyle and often seen being sported by the glamorous gals of the silver screen!
Shoes were another item of clothing that was strictly limited and therefore, practical sensible shoes were a necessity although platforms and wedges were around – it was the low heeled comfortable and hardwearing shoe that most women wore.
In 1947 Dior's New Look was revealed, this was the fore runner of the 1950's silhouette of nipped in waists and voluminous petticoats but after the war rationing continued until midnight on Sunday 4th July 1954.
If you're looking for a budget conscious forties style for Goodwood a 1980s dress is a great cheap charity shop method of getting the forties vibe!

(Suit shown in the above image from Retro Daisy - hat original 1940s)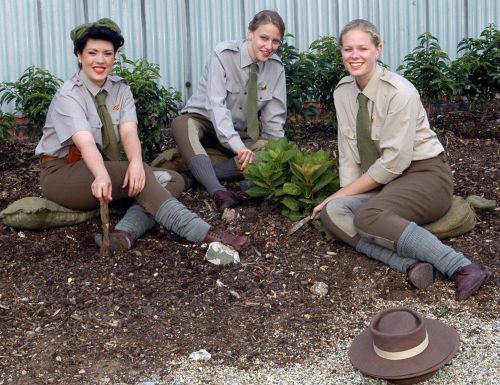 Be a 1940s Landgirl!
At Retro Daisy we have everything you need to pay homage to the 1940s, whether you're aiming at a Rita Hayworth evening look or a Norma Jeane casual daytime appearance in denims. We can show you how to have fun with the forties! Don't forget that essential accessory red lipstick!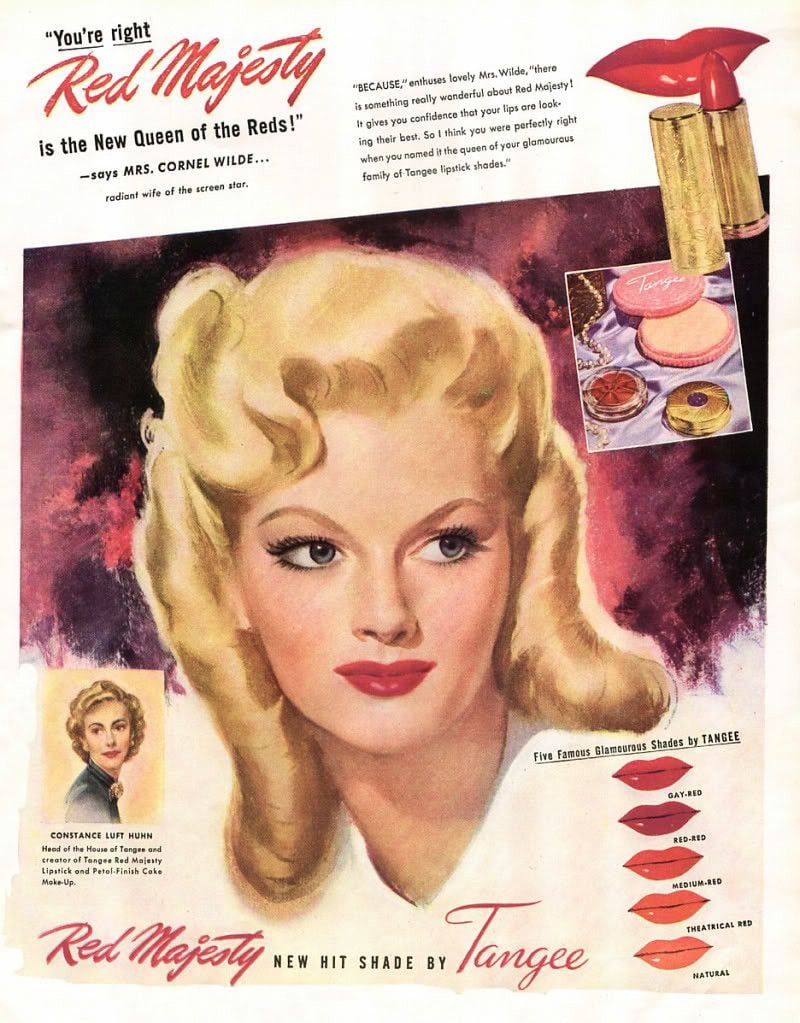 Team our 1940s trousers with sweetheart knits or flirt with our flared skirts and forties inspired tops.
We have seamed stockings (and tights!) for forties authenticity, gloves, hats, hair flowers and more!
The great thing about forties fashion is that it transitions beautifully into your modern wardrobe – it has a classic quality about it and you'll be able to wear your Retro Daisy outfit time and time again, in keeping with the 1940s ethos of avoiding wastefulness and looking elegant at all times!
Click on 'Shop the 1940s' for ideas!