Daisy's Vintage
A Vintage Romance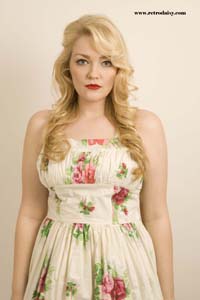 ***We are currently out of stock of vintage clothing - please check back soon for an update of new items coming in!***
Vintage clothing is extremely special, it's hard if not impossible to find two items that are identical in every way. Our stock is continually changing and is chosen for it's beauty, originality, materials, structure and quality.
Due to the nature of vintage, it is advisable to see items and try them on before deciding whether or not to purchase. Unlike modern day clothes, vintage clothing has a unique fit and any idea of 'sizing' has to be completely thrown out of the window! There is only one way to know if a vintage dress will fit you and that is to try it on!
For this reason, Retro Daisy will not be selling vintage clothing online - however, if you see something that you truly fall in love with, but are unable to travel to the shop, please call us and we will endeavour to help any serious match making enquiries!